Japanese Interpretation Agency Tokyo
Japan
A professional Japanese interpretation services company will increase confidence in You, Your Products and Your Business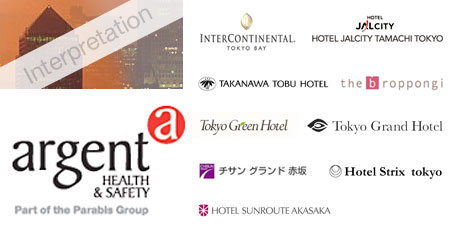 Japanese English Interpretation
Multiple engagements at luxury hotels in Tokyo auditing health and safety policy.


Do your interpreters increase customer confidence in dealing with you – or do they jeopardizing that confidence?

When meeting your customers, or hosts, I am sure you understand that the quality of your Japanese interpretation team directly impacts confidence in you. In order to boost customer confidence, you'll need a professional team that not only has expert knowledge, but who also are native interpreters that ensure your audience understands the message perfectly.


Enjoy greater success in the Japan Market with Specialized Japanese Interpretation Teams
We focus exclusively on the Japan market, so our knowledge of Japanese culture, language and the local business market is unparalleled. This means we can assembly the right team of professional interpreters for your engagement who:


Are Native Japanese English Interpreters
Adhere to a strict code of ethical standards
Are professionals knowledgeable in your industry


As a result you'll benefit from persuasive and powerful communications that maximizes the impact on your Japanese audiences.

Japanese interpretation is most effective when the tone and style is natural reflecting cultural sensitivities and sensibilities. In order to convince and motivate audiences, it's essential that your interpreting engagements are by professional Japanese interpreters.

With SAECULII as your interpretation agency in Japan, we ensure this happens, working closely with you every step of the way so that you are guaranteed successful interpretation engagements every time. With this simple but effective formula, we have developed a proven track record of success and a long list of satisfied clients who we've helped successfully in the Japanese market.

Take a look at what some of these clients say about our Japanese Interpretation Solutions »


" I would like to express our thanks to you and your team for the great job you have done for us. We had a great entry into the Japanese market and a good part of that has to be attributed to you."

Dr. Franz Alfert
(Managing Director, ATEX Explosionsschutz GmbH)


Get in touch today give your company a boost in the Japan market - Japanese Interpretation Agency »